Public / media
Create videos with quizzes in Blackboard
In Blackboard, it is possible to add multiple-choice questions to your videos to activate your students, increase their attention, and test their knowledge. Afterwards, you can pull statistics on who has answered correct or incorrect and what questions caused the most problems.
To use the Kaltura Video Quiz, you need to either have your video stored on your device or have it ready on Kaltura's video platform.
In a content area in your Blackboard course page, select Assessments > Kaltura Video Quiz.
In the upper right corner, select Add New > Video Quiz.

Now, select either one of your previously uploaded videos by clicking Select next to the video or upload a new video by clicking + Upload Media > + Choose a file to upload. Find the video on your device, upload it and fill in the Name and Description. Click Edit Quiz.
Wait for the video to upload to the server. Waiting time depends on the size of the file. Afterwards, you can enter questions.
Drag the slider in the timeline below the video to where you want to insert a question and click on the +.

Write your questions and possible answers. Click + to add more possible answers. Drag around the answers to swap order.

At the top right corner, you can click on the light bulb to insert a Hint, which is a tip students can use before answering, and Why, which is the feedback the students receive when they have answered a question.

When the question is ready, click Save.
Now follow step 4-7 to insert more questions in your video. You can also move around the questions by dragging the blue hexagons in the timeline.
In the black menu to the right, you can adjust your quiz settings: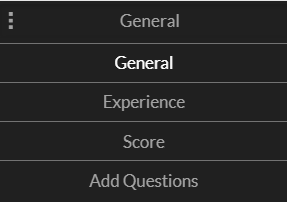 When you have inserted your questions and adjusted the settings, click Preview quiz to check if everything works as intended.
Click Back to Browse and Embed.
Click Select next to the video quiz you have created, name it, and click Submit.
The video is now ready to use.
Afterwards, it is possible to make corrections or view statistics on your videos.
On your main menu, My Institution, find My Media. If this menu item is not visible, click Add Module, search for My Media, and click Add. Press the OK button to the right.

Filter your media by selecting View Quiz and click on the title of the quiz you want to work with.

In the menu Actions, you can select:

Publish, if you want to use the video quiz in some of your other courses.
Analytics, if you want to see statistics on the video.
Edit Quiz, if you want to edit your questions.
Edit, if you want to change the settings of your video.